Vekasy's has combined the meaningful tradition of giving a greeting card with a wearable, handcrafted, one of a kind "keepsake" piece of jewelry; which the recipient can enjoy and cherish for many years to come.
Our wide selection of blank Greeting Cards are perfect for any occasion.
Gift giving is easy! Just add your personal message – the jewelry is already included!
IF MAILING: Envelopes should be marked 'fragile' and may require extra postage.
Gift Ensemble (3000-JGCD) - Description: Handcrafted Earrings: Copper Wire/Turquoise Howelite Gemstone Beads/Sterling Silver Earwire - Hand Assembled Gift Card and Envelope - Dimensions: (Card: L x W - Earrings: L - In Inches)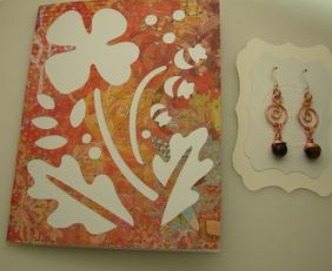 Gift Ensemble (3001-JGCD) - Description: Handcrafted Earrings: Copper Wire/Tiger's Eye Gemstone Beads/Sterling Silver Earwire - Hand Assembled Gift Card and Envelope - Dimensions: (Card: L x W - Earrings: L - In Inches) 
Gift Ensemble (3002-JGCD) - Description: Handcrafted Earrings: Copper Wire/Faceted Glass Beads/Sterling Silver Earwire - Hand Assembled Gift Card and Envelope - Dimensions: (Card: L x W - Earrings: L - In Inches)
Gift Ensemble (3003-JGCD) - Description: Handcrafted Earrings: Copper Wire/Tiger's Eye Gemstone Beads/Sterling Silver Earwire - Hand Assembled Gift Card and Envelope - Dimensions: (Card: L x W - Earrings: L - In Inches)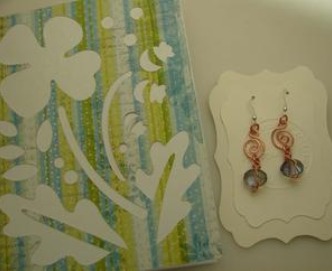 Gift Ensemble (3004-JGCD) - Description: Handcrafted Earrings: Copper Wire/Faceted Glass Beads/Sterling Silver Earwire - Hand Assembled Gift Card and Envelope - Dimensions: (Card: L x W - Earrings: L - In Inches)
Gift Ensemble (3005-JGCD) - Description: Handcrafted Earrings: Copper Wire/Faceted Glass Beads/Sterling Silver Earwire - Hand Assembled Gift Card and Envelope - Dimensions: (Card: L x W - Earrings: L - In Inches)
Gift Ensemble (3006-JGCD) - Description: Handcrafted Earrings: Copper Wire/Tiger's Eye Gemstone Beads/Sterling Silver Earwire - Hand Assembled Gift Card and Envelope - Dimensions: (Card: L x W - Earrings: L - In Inches)
Gift Ensemble (3007-JGCD) - Description: Handcrafted Earrings: Copper Wire/Turquoise Howelite Gemstone Beads/Sterling Silver Earwire - Hand Assembled Gift Card and Envelope - Dimensions: (Card: L x W - Earrings: L - In Inches)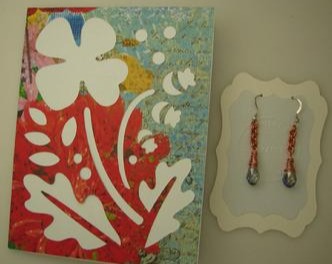 Gift Ensemble (3008-JGCD) - Description: Handcrafted Earrings: Copper Wire/Faceted Glass Beads/Sterling Silver Earwire - Hand Assembled Gift Card and Envelope - Dimensions: (Card: L x W - Earrings: L - In Inches)
Gift Ensemble (3009-JGCD) - Description: Handcrafted Earrings: Copper Wire/Faceted Glass Beads/Sterling Silver Earwire - Hand Assembled Gift Card and Envelope - Dimensions: (Card: L x W - Earrings: L - In Inches)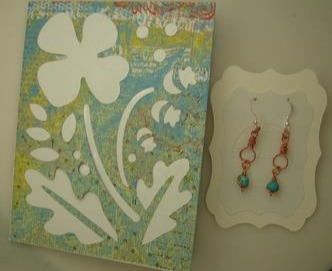 Gift Ensemble (3010-JGCD) - Description: Handcrafted Earrings: Copper Wire/Turquoise Howelite Gemstone Beads/Sterling Silver Earwire - Hand Assembled Gift Card and Envelope - Dimensions: (Card: L x W - Earrings: L - In Inches)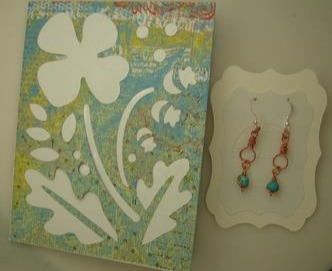 Gift Ensemble (3010-JGCD) - Description: Handcrafted Earrings: Copper Wire/Turquoise Howelite Gemstone Beads/Sterling Silver Earwire - Hand Assembled Gift Card and Envelope - Dimensions: (Card: L x W - Earrings: L - In Inches)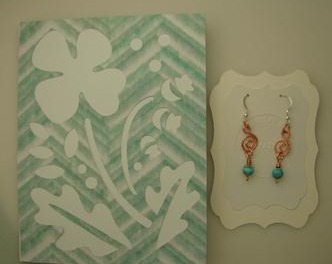 Gift Ensemble (3011-JGCD) - Description: Handcrafted Earrings: Copper Wire/Turquoise Howelite Gemstone Beads/Sterling Silver Earwire - Hand Assembled Gift Card and Envelope - Dimensions: (Card: L x W - Earrings: L - In Inches)
Gift Ensemble (3012-JGCD) - Description: Handcrafted Earrings: Copper Wire/Tiger's Eye Gemstone Beads/Sterling Silver Earwire - Hand Assembled Gift Card and Envelope - Dimensions: (Card: L x W - Earrings: L - In Inches)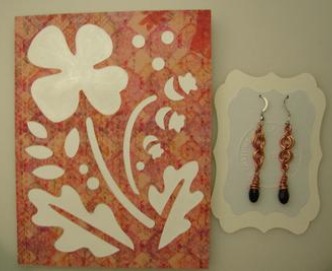 Gift Ensemble (3013-JGCD) - Description: Handcrafted Earrings: Copper Wire/Faceted Glass Beads/Sterling Silver Earwire - Hand Assembled Gift Card and Envelope - Dimensions: (Card: L x W - Earrings: L - In Inches)
Gift Ensemble (3013-JGCD) - Description: Handcrafted Earrings: Copper Wire/Faceted Glass Beads/Sterling Silver Earwire - Hand Assembled Gift Card and Envelope - Dimensions: (Card: L x W - Earrings: L - In Inches)